Welcome to
Abhedananda Mahavidyalaya
Abhedananda Mahavidyalaya, one of the premier institutions of Birbhum district of West Bengal was established in the year 1965 by the holy hands of Thakur Sri SatyanandaDev, the spiritual disciple of Swami Abhedananda on the occasion of the birth centenary of the latter. Several eminent personalities and industrialists of the locality gave land to the Ramakrishna Ashram which donated the land for construction of the college. When the institution started its journey, it had a spiritual setup with the academics and administration managed by sanyasis and brahmacharis headed by the founder Principal Dr. K. D. Roy (Swami Krishnananda), an eminent Professor of Physics himself.
The building was constructed by the shramdan of the staff and students of the college. Gradually, due to the efforts of the staff and benevolent funds from the UGC and State Govt. the college pupated into its present form opening the higher education avenue to hundreds of students, most of whom came...
Read More
Swami Abhedananda (2 October 1866 – 8 September 1939), born Kaliprasad Chandra was a direct disciple of the 19th century mystic Ramakrishna Paramahansa and the founder of Ramakrishna Vedanta Math. Swami Vivekananda sent him to the West to head the Vedanta Society of New York in 1897, and spread the message of Vedanta, a theme on which he authored several books through his life, and subsequently founded the Ramakrishna Vedanta Math, in Calcutta (now Kolkata) and Darjeeling.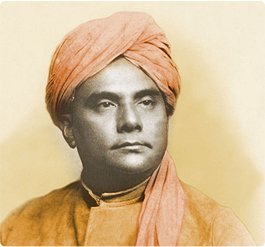 "Tapasya or austerity enhances willpower.
have self-confidence.
have faith in yourself.
Think, I am a child of immortal Bliss.
The infinite power is playing within me.
If you have this conviction,
You will conquer the world."
Swami Abhedananda